Pricing Announced for the 2012 Kia Cee'd Range
2012 Kia Cee'd is a second-generation of the famous model. It is soon going to go on sale thus bringing to its customers enhanced quality, refinement and efficiency. It also will provide impressive levels of comfort, safety and luxury.
New Cee'd is now offered for the first time with direct-injection petrol engine. In addition to that it is the first Kia to offer a dual-clutch automated manual transmission.
2012 Cee'd has different proportions from its predecessor, which contribute to its sportier stance and a more appealing appearance. In particular, it is narrower and lower: down 10mm each to 1,780mm and 1,470mm respectively.
Front passengers are also in an advantageous position, because they benefit from enhanced headroom, legroom and shoulder room.
The aerodynamics has also been improved thus making the cee'd more efficiently at speed. The co-efficient of drag here is is 0.30, which consequently leads to improvement in the fuel economy as well.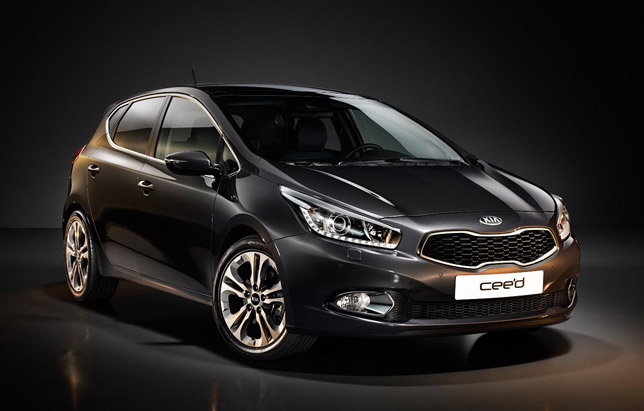 The athletic appearance of the vehicle is further emphasised by the wider front and rear track measurements. Adding to this are the 17-inches wheels.
The interior is entirely ruled by soft-touch surfaces. Of course it was made only with high-quality materials, and includes: damped sun visors and lidded storage areas, subtle red ambient lighting, tactile door grab handles and precise panel gaps.
More importantly however, is that the new Cee'd now offers improved fuel efficiency. Its average fuel consumption is lowered by 4 per cent. The CO2 emissions it produces are 97g/km for the 1.6-litre diesel model.
Four engines will be at the disposal of the customers of this Kia model: 1.4- and 1.6-litre diesels and petrol engines of similar capacity.
The 1.6-litre petrol engine for example includes efficiency-enhancing direct fuel injection. It can produce 133 hp (98 kW) and 164Nm (121 lb-ft) of torque, and is the only Cee'd available with the dual-clutch gearbox.
All 1.6-litre manual versions come equipped with ISG (Intelligent Stop & Go) which further contributes to the efficiency improvements. The 1.6-litre diesel with ISG has a combined cycle of fuel economy of more than 76mpg, with CO2 emissions from 97g/km.
This engine is able to develop 126 hp (93 kW) and 260Nm (192 lb-ft) of torque and comes mated to a conventional six-speed automatic gearbox.
Next, the 1.4-litre petrol version engine develops 98 hp (72 kW) and 137Nm (101 lb-ft) of torque and is capable of more than 47mpg, with CO2 emissions from 139g/km. On the other hand the diesel version produces 89 hp (65 kW) and 220Nm (162 lb-ft), and manages almost 69mpg, with CO2emissions down to 109g/km.
In terms of safety and security the Cee'd comes with stiffer bodyshell, 57 per cent of which is from high-tensile steel, with ultra-high-tensile steel in the B-pillar structures.
The extensive standard and passive safety equipment of the Cee'd include: Electronic Stability Control (ESC), Vehicle Stability Management (VSM), Hill-start Assist Control (HAC) and six airbags, Emergency Stop Signalling (ESS), Parallel Parking Assist System, Lane Departure Warning System, Motor Driven Power Steering.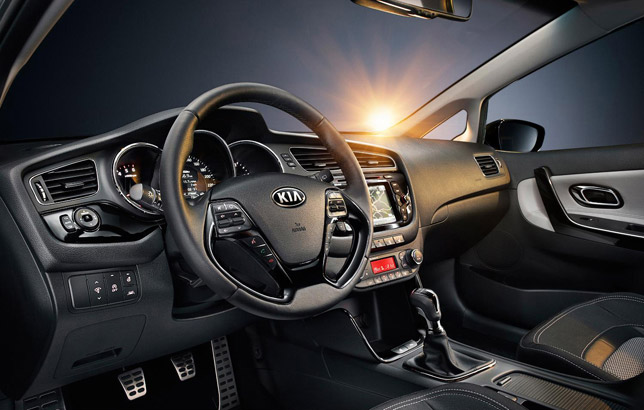 2012 Kia Cee'd is available in five trim levels, named '1', '2', '3', '4' and '4 Tech'. All will include a comprehensive list of standard equipment. In it are included electrically adjustable heated door mirrors, tilt and telescopic steering wheel adjustment and a height-adjustable driver's seat, air conditioning, steering wheel-mounted controls, front electric windows, projection headlights, daytime running lights, remote central locking, a cooled glovebox, a flat-folding 60:40 split rear seat, ambient front lighting, an iPod-compatible audio system with radio and CD player, USB port and Bluetooth connectivity, ESP and VSM, HAC (Hill-start Assist Control), six airbags and speed-sensitive auto door locking.
2012 Kia Cee'd range '2' adds to the standard equipment 16-inch alloy wheels, cornering lights, LED daytime running lights and rear combination lamps, electrically folding and heated door mirrors, leather trim on the steering wheel, gearshifter and handbrake, greater use of chrome highlights, a rear centre armrest, all-round electric windows, cruise control with speed limiter, reversing sensors and the Flex Steer function.
2012 Kia Cee'd range '3' has in addition privacy glass, automatic headlights with a 'follow-me-home' function, rain-sensing front wipers with de-icing elements, a height-adjustable front passenger's seat, electric lumbar support on both front seats, dual-zone automatic air conditioning with two-step air-flow control and a seven-inch touchscreen satellite navigation, built-in colour reversing camera system.
2012 Kia Cee'd range '4' comes equipped additionally with 17-inch alloys, exterior illumination on the front door handles, black leather front seats with contrasting grey inserts and three-stage heating, a heated steering wheel, electronic parking brake, an engine stop/start button with smart entry system, rear air ventilation system, a premium centre console with sliding cover and a TFT LCD multi-function high-definition colour display.
2012 Kia Cee'd '4 Tech' is characterized by its panoramic sunroof, 10-way power-adjustable driver's seat with memory, Parallel Parking Assist System – including front parking sensors, Lane Departure Warning System and Xenon adaptive front lighting system with automatic levelling.
2012 Kia Cee'd is going to go on sale in the United Kingdom on 1 June with a starting price of £14 395.
2012 Kia Cee'd range specifications
| | | | | | |
| --- | --- | --- | --- | --- | --- |
| Model | Power bhp | Torque Nm | 0-60 sec | Max speed mph | Combined mpg |
| '1' 1.4 6-speed manual | 98 | 137 | 12.4 | 113 | 47.1 |
| '1' 1.4 CRDi 6-speed manual | 89 | 220 | 13.0 | 106 | 68.9 |
| '1' 1.6 CRDi 6-speed manual ISG | 126 | 260 | 11.5 | 122 | 76.3 |
| '2' 1.4 6-speed manual | 98 | 137 | 12.4 | 113 | 46.3 |
| '2' 1.6 GDI 6-speed manual ISG | 133 | 164 | 9.8 | 118 | 52.3 |
| '2' 1.6 CRDi 6-speed manual ISG | 126 | 260 | 11.5 | 122 | 74.3 |
| '2' 1.6 CRDi 6-speed auto | 126 | 260 | 11.3 | 116 | 51.4 |
| '3' 1.6 GDI 6-speed manual ISG | 133 | 164 | 9.8 | 118 | 52.3 |
| '3' 1.6 GDI 6-speed DCT | 133 | 164 | 10.4 | 121 | 46.3 |
| '3' 1.6 CRDi 6-speed manual ISG | 126 | 260 | 11.5 | 122 | 74.3 |
| '4' 1.6 GDI 6-speed manual ISG | 133 | 164 | TBC | TBC | TBC |
| '4' 1.6 GDI 6-speed DCT | 133 | 164 | 10.4 | 121 | 46.3 |
| '4' 1.6 CRDi 6-speed manual ISG | 126 | 260 | TBC | TBC | TBC |
| '4 Tech' 1.6 GDI 6-speed manual ISG | 133 | 164 | 9.8 | 118 | TBC |
| '4 Tech' 1.6 GDI 6-speed DCT | 133 | 164 | 10.4 | 121 | 46.3 |
| '4 Tech' 1.6 CRDi 6-speed manual ISG | 126 | 260 | TBC | TBC | TBC |
2012 Kia Cee'd range – emissions and costs
| | | | | | |
| --- | --- | --- | --- | --- | --- |
| Model | CO2 g/km | VED Band | BIK Band | Ins. Group | Price OTR |
| '1' 1.4 6-speed manual | 139 | E | 18% | TBC | £14,395 |
| '1' 1.4 CRDi 6-speed manual | 109 | B | 15% | TBC | £15,695 |
| '1' 1.6 CRDi 6-speed manual ISG | 97 | A | 13% | TBC | £16,295 |
| '2' 1.4 6-speed manual | 143 | F | 18% | TBC | £16,395 |
| '2' 1.6 GDI 6-speed manual ISG | 124 | D | 15% | TBC | £17,195 |
| '2' 1.6 CRDi 6-speed manual ISG | 100 | A | 13% | TBC | £18,295 |
| '2' 1.6 CRDi 6-speed auto | 145 | F | 23% | TBC | £19,395 |
| '3' 1.6 GDI 6-speed manual ISG | 124 | D | 15% | TBC | £18,995 |
| '3' 1.6 GDI 6-speed DCT | 140 | E | 19% | TBC | £20,295 |
| '3' 1.6 CRDi 6-speed manual ISG | 100 | A | 13% | TBC | £20,095 |
| '4' 1.6 GDI 6-speed manual ISG | TBC | TBC | 15% | TBC | £20,595 |
| '4' 1.6 GDI 6-speed DCT | 140 | E | 19% | TBC | £21,895 |
| '4' 1.6 CRDi 6-speed manual ISG | TBC | TBC | 13% | TBC | £21,695 |
| '4 Tech' 1.6 GDI 6-speed manual ISG | TBC | TBC | 13% | TBC | £22,495 |
| '4 Tech' 1.6 GDI 6-speed DCT | 140 | E | 19% | TBC | £23,795 |
| '4 Tech' 1.6 CRDi 6-speed manual ISG | TBC | TBC | 13% | TBC | £23,595 |
Source: Kia