Pricing Announced for the Mazda MX-5 Venture Edition
Mazda MX-5 Venture Edition - the world's best-selling two-seater sportscar will go on sale with a starting price of £18 995. In addition to that, the other news that goes around the model is that it was named 'Most Popular Convertible' at the 2012 Honest John Awards.
The list included vehicles such as Volkswagen Eos, BMW 3-Series Convertible, BMW Z4 and Fiat 500C. The Mazda model however, was unsurpassed. It was chosen as a winner, because it has handling abilities, ease of use and low running costs.
The new special edition of the praised car Mazda MX-5 Venture Edition includes a Soft-top or can be purchase as a Roadster Coupe (a retractable hard-top). It includes upgraded luxurious specification, advanced technology, premium interior trim and exclusive exterior colours.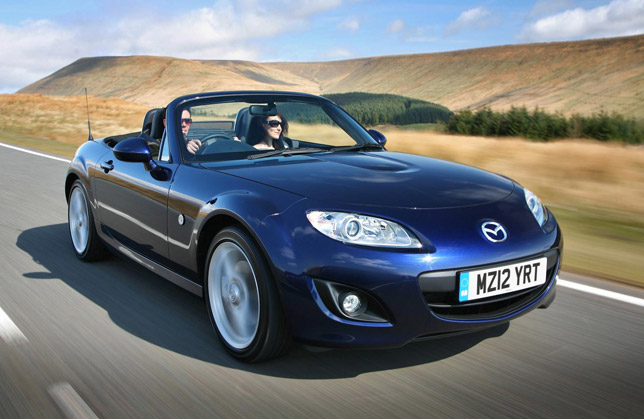 In particular, the Venture Edition comes equipped with 1.8-litre MZR engine for the Soft top (SE), and with a 2.0-litre MZR engine for the Roadster Coupe (Sport Tech).
The sportscar of course keeps the great dynamic attributes, low running costs and in addition offer open-top thrills. Exclusive highlights from the outside include light gun metal 17-inch alloy wheels, front fog lights and a chrome front grille.
Inside a leather feast unfolds itself as you enter. The steering wheel, seats and the leather lever are all wrapped in Havana Brown leather. A matching door trim on the side and piano black dashboard accents at the front appease you. Technology includes climate control air-conditioning, cruise control, Dynamic Stability Control, TCS and airbags, lots of them.
The prices of Mazda MX-5 Venture Edition vary between £18 995 and £22 295.
Source: Mazda