Rare cars and bikes get ready to excite Classic Motor Show fans this weekend
A lovingly restored Panther 6, one of only two produced; the only Unipower GT on the road in Europe. Prefer two wheels? How about the Texas Cee-Gar or Little Miss Dynamite, the ace Café racer? Just a few of the extremely rare cars and motorcycles that will be on display at the Classic Motor Show, which starts Friday 14th and runs until Sunday 16th November at Birmingham's NEC.Only two gloriously unenvironmental Panther 6 six-wheeler cars were made between 1977-78, with 8.2-litre 600 bhp, twin-turbo Cadillac engines emptying their twin 30-gallon tanks at the rate of 4-5 mpg – enough to rate the model as the first road-going car to exceed 200 mph, although this was never substantiated. Costing nearly £40,000 each at 70s prices, one was sold to the Saudi Arabian royal family, while the other went to Canada. Following indifferent treatment in the USA and rat-infested storage in Greece, this is the car now undergoing the finishing touches of a restoration in time for the Classic Motor Show.
The Unipower GT has also been restored to factory specification, right on the NEC's doorstep. One of the most thoroughly engineered and best built specialist sports cars of the 60s, just 75 Unipower GT's were produced with most now residing in America and the Far East. The car was based on BMC Mini mechanical components with the transverse engine and gearbox unit mounted in a mid-engine configuration. Combining light weight, a low centre of gravity and low aerodynamic drag from a body that measured just 40.5 inches high, the Unipower offered excellent performance and road holding and handling characteristics.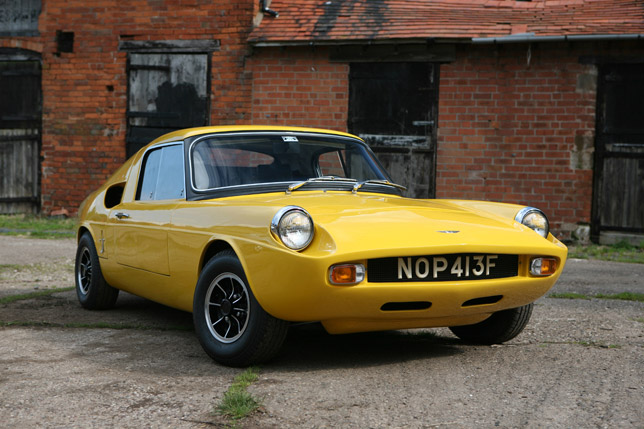 Other shining examples include the finalists of Meguiars Club Showcase concours, which include a Jaguar E Type, a Mercedes-Benz 190SL, a BMW Z1 and a TR3a. They are joined by a Saphire Cosworth, the NSRA's 1941 Willys Coupe, a 1986 Renault Alpine GTA V6 Turbo and the Jensen 541S. Other finalists include the MX5 Eunos Roadster Mk1, the Mini 40, a 1972 Green Volkswagen Beetle and the Ferrari 268SP. The line up is completed with a VW Golf MK1, a 1983 Panther Kallista, a Mk2 Capri, a Crayford Convertible and a 1963 Ford 'Consul' Corsair.
If you prefer two wheel rather than four, the new Classic Bikes at the Classic Motor Show will have over 200 motorcycles including the amazing Texas 'Cee-Gar', which is a Bonneville streamliner ridden by Johnny Allen on the Salt Flats to set a world motorcycle speed record of 214mph in 1956. Powered by a Triumph Thunderbird engine, this very streamliner was the inspiration for the iconic Triumph Bonneville model.
Other rarities include a one-off BSA Gold Star 3; this was a concept produced by US dealers based on what a Gold Star Rocket Three would look like, but it never made production, and the Honda CB750 CR, ridden to victory by Dick Mann in the Daytona 200 Mile Endurance Race in 1970, that is the only surviving example of the works Honda built especially for that particular race.
The Hesketh Owners Club will have a chronological line-up of every Hesketh produced from the 1979 pre-launch prototype through to the 1200cc Vultan model while in the Pride of Ownership display, there will be unique 1951 Sunbeam XB9 Special, a great example of a British bike which has been fitted with a Harley Davidson engine.
Show manager Andy Rouse is looking forward to a great show, especially in light of the buoyancy of the classic motoring market in difficult financial times. Andy said: "Why spend £30k on something modern, which is exactly the same as the one that lives around the corner, when you can buy something special for far less outlay? Granted some classics are not for everyday use, but people are buying a classic cars as an investment; they are looking at the banking crisis and they want to put their money into something safe, which they can enjoy.
"At the top of the market you have people buying classics as an investment and at the entry level, you have people turning to classics because they are more affordable to run and maintain – and we're not just talking about pre 1973 cars which are exempt from road tax. They are far simpler and owners can maintain and repair them themselves; saving money on expensive main-dealer labour rates and buying parts which are far more affordable.Add in heightened nostalgia from TV shows like Life On Mars and cars which haven't traditionally been labelled 'classics' are also on the up. You used to be able to pick up something unloved like an Austin Allegro for under a hundred pounds, but these cars are going for £7-800."
The UK's biggest and best classic motoring extravaganza, the Classic Motor Show has over 1,000 rare and amazing cars on display from over 180 classic motoring clubs across the UK. It also hosts over 300 trade stands, a Live Stage, a Restoration Theatre and offers 'Dream Rides', a ten-mile ride as a passenger in a classic car in exchange for a donation for children's charities. New for 2008 is Classic Bikes at the Classic Motor Show, a dedicated hall featuring over 200 classic bikes and scooters.