Red Bull Racing the Victorious team at Silverstone
Sebastian Vettel claimed his second victory of the season with a dominant lights-to-flag display at Silverstone and went on to hail the circuit as "fantastic" and the kind of venue where he has always dreamed of racing.
"It is fantastic," he said of the result. "It shows we are on the right way. I want to thank Silverstone: it's only my second time here, I enjoyed it so much here, the cheering was fantastic, the emotions especially when I crossed the chequered flag, just fantastic.
"The atmosphere was great," he added. "This is what I was dreaming of when I saw the first grand prix here in the era of Mansell and so on. It's unreal now to think I am here, I have made it and I have won this grand prix."
Vettel dominated his second Silverstone grand prix from start to finish claiming not only the win but also pole position and the fastest lap of the race to finish 15 seconds ahead of team-mate Mark Webber.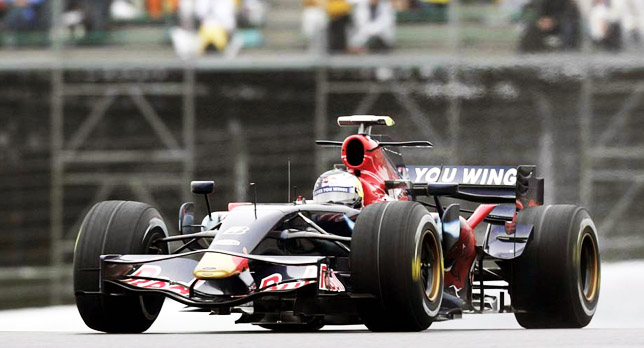 But despite the crushing display, the Red Bull Racing star said that achieving the result had not been as easy as it appeared.
"It is never easy," he said. "It is a long, long race. It is a dream, really, but you have to stay focused and keep your eyes open.
"The start was important, in the first stint I pushed hard straight away to try and build a gap. I knew it was crucial as I would benefit all race from it. I had a fantastic car. I was able to push more and more and more.
"The second stint wasn't easy at all, they (the team) said 'be careful'. I had a lot of traffic and a lot of battling cars. But in the last pitstop I was in clean air. I was counting down the laps and controlling the race from that point onwards. The last 10 laps were quite easy but before that I was pushing hard and the second stint was like a slalom, having to pass a lot of lapped cars."
The victory pushes Vettel slightly closer to Jenson Button in the race for the drivers' title and the German reckons that there could be more to come.
"We have made a nice step forward," he said. "I think we have improved the car a bit everywhere and it all came together. We did a good job the whole team working fine and if you want to say it in that way we were quite dominant."