Revozport MINI Targa Raze Unveiled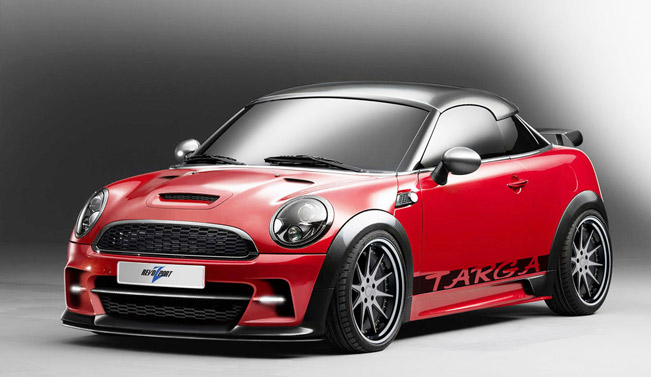 RevoZport MINI Targa Raze is the latest release from the tuning company. They have equipped this MINI model with new aero and performance kit.
The UK tuners offer a more sleek and sporty look to the emblematic car, and have turned it into an extreme sports one that weight 30kg lighter. In addition they gave it a power boost from 181 hp (132 kW) to a staggering 250 hp (184 kW).
What RevoZport has basically done here to achieve such increase in power is that they have teamed up with the engineering team at TARGA Racing. The latter were in charge of building the performance kit. The aero kit on the other hand is complete built with carbon composite fibre with the latest curing method.
The MINI Targa Raze comprises of a complete aero kit that makes the vehicle 30kg lighter and widen the wheel track by 15mm both front and rear. Of course, a substantial reason for this was the utilization of carbon kevlar composite material.
The complete kit consist of 23 parts including a complete front bumper that equips with integrated LED DRL, a lightweight vented bonnet, a rear bumper with integrated chrome exhaust pipe and LED reverse and foglight, Side skirt that has air scoops, widened front and rear fender trim, a duckbill lip spoiler with an optional GT wing and complete carbon fibre roof panel.
The latter component has been developed by RevoZport. Furthermore, the performance upgrade was achieved through the use of a complete race engineered Titanium cat back exhaust that only weigh 5kg, a bespoke ECU mapping, carbon induction pipe, bigger intercooler and a pair of tricked camshafts.
As a result, the MINI can now generate the staggering 250 horsepower.
RevoZport MINI Targa Raze will be displayed and tested in the Zhuhai International Circuit in October this year.
Source: RevoZport