Rubens Barrichello third at the British GP
Brawn GP's Rubens Barrichello drove an assured race at Silverstone today to bring his Brawn-Mercedes car home in third position at the team's home Grand Prix. Team-mate Jenson Button secured sixth position to score a valuable three points.
Both drivers began the race on the softer option tyre and whilst Rubens had a good getaway to maintain second position off the line, Jenson was boxed in behind a slow-starting Trulli and dropped to ninth at the first corner.
Following similar two-stop strategies, Jenson pitted first on lap 18 for a long middle stint on the prime tyre. Rubens came in one lap later, losing a place to Mark Webber who stayed out longer. Both Brawn GP drivers struggled with grip levels on the harder compound and were unable to maintain tyre temperatures in the cool track conditions.
Their second stops came on lap 47 for Rubens who maintained his third position and lap 49 for Jenson who jumped Jarno Trulli and Kimi Raikkonen to take sixth position at the end of the 60-lap race.
Weather Cool and overcast Temperatures Air: 16-17°C Track: 26-30°C
Rubens Barrichello 23 BGP 001-01 P3 01:21.429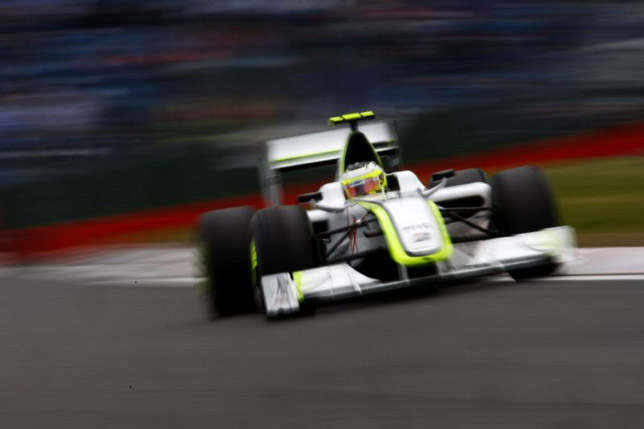 "I'm really proud of the third place that we achieved at Silverstone today. It's been a tough weekend for the team and we knew that if the track temperatures didn't increase, then it would be incredibly difficult to beat the Red Bulls. The car has been well balanced and we certainly haven't lost performance since the last race, it's just that we have suffered badly in the cool conditions with our tyre temperatures. I had a good start to maintain second but Sebastian then disappeared in front of me and we knew that we were competing for third. There's been very little difference between the two tyre compounds this weekend but the softer tyre was definitely better in the race so it was tough for us to do the long middle stint on the harder tyre. Still to come away with third and the best position that the team could have achieved this weekend is very satisfying and I'm happy to have taken some points out of Jenson's lead." Jenson Button 22 BGP 001-02 P6 01:21.189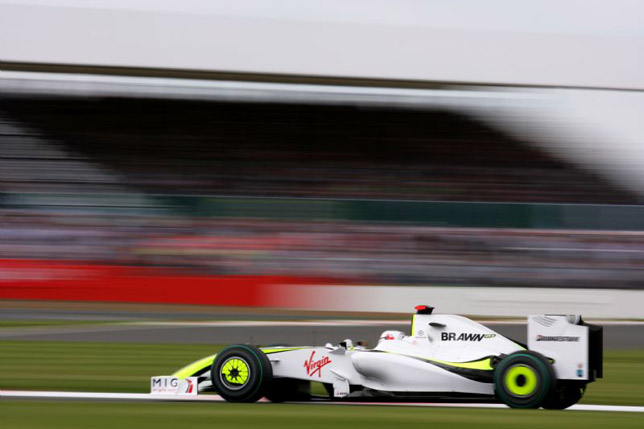 "All points are important at this stage of the season and to come away with three from this weekend is therefore ok but it's been a very frustrating home Grand Prix for us. I had a bad start as Trulli was slow off the line in front of me which left nowhere to go. I tried the inside and then the outside but everyone shot by me. From ninth place it was never going to be an easy race. I was stuck behind Trulli for the first stint which was really frustrating as the car felt good on the softer tyre and I was much quicker than him but couldn't overtake. We then had a long middle stint on the harder tyre and both Rubens and I struggled to get the tyres into their working range in the cool conditions with a heavy fuel load. On the softer rubber at the end of the race, I was able to close right up to Rosberg and Massa very easily so the pace of the car was actually pretty good but it is so difficult to overtake that I couldn't make any improvement on sixth position with only a few laps left. We need to understand why our car doesn't work so well at low temperatures and hope for warmer races to come."
ROSS BRAWN
"Today's result was a pleasing outcome to what has been a challenging home race for the team this weekend. Rubens drove a very composed race to achieve his second consecutive podium finish at Silverstone whilst Jenson recovered well from a poor start to score valuable points for our Championship challenge. We knew from the outset that our car does not work particularly well with the tyres at lower track temperatures and this was clearly evident at Shanghai earlier in the season. The balance of the car and the pace shown by Jenson in the last few laps of the race are however encouraging and we will be taking a close look at the issues that we experienced with the tyres to see what countermeasures can be taken. Congratulations to Red Bull for a superb one-two finish today and we look forward to taking the fight to them in Germany."