2015 Saleen 302 Ford Mustang to Pump Out 640 Horsepower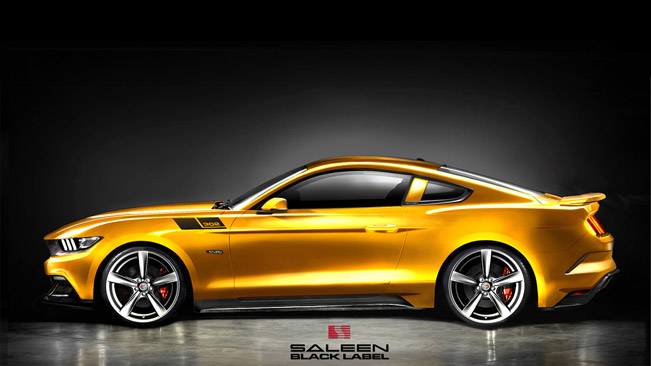 2015 Saleen 302 Ford Mustang was shown for the first time with a single picture in the beginning of July. The response of course was resounding. Saleen team is now stating that they are working hard to bring the next vehicle in the lineup to life. Since this is the firs new Mustang model for almost 10 years, the company is expecting an exciting time for the Mustang community when the S302 premieres.
As the official unveiling approaches, the customizing specialists have released the features and specifications for the 2015 Saleen 302 Mustang (the full list is featured in the gallery below). Next to the features and specifications data, the company has also released another image of the car, showing a profile view. It definitely gives an enhanced perspective on what we are to expect.
But the most important question here probably is how much horsepower will this enhanced Ford Mustang produce. The standard production V8 engine is rated at 435 horsepower (320 kW) and 542 Nm (400 lb-ft).  Saleen expects to make better these factory numbers and add 15 hp and 10 Nm, making a total of 450 hp (331 kW) and 555 Nm (410 lb-ft) in naturally aspirated form.
With the advantage of a supercharger, the pony car will pump out the numbers to 640 hp (471 kW) and 765 Nm (565 lb-ft). Either of the engines will be coupled with a six-speed manual or automatic gearbox.
This Ford S302 will be offered in a convertible or a coupe form, and will come in three trim levels – White Label, Yellow Label and Black Label. The first one features the naturally aspirated engine, while the other two trims benefit from the supercharged unit.
The White and Yellow trim also add upgrades like a new exhaust system and limited-slip differential, as well as improved suspension, heat extractor hood and rear wing. On the other hand, the Black gets center induction hood, side skirts, a new rear fascia integrated with the exhaust system. It also added more suspension upgrades, illuminated sill places, leather and Alcantara seats.
Source: Saleen