Skoda Fabia R 5 Concept Makes World Premiere at Essen Motor Show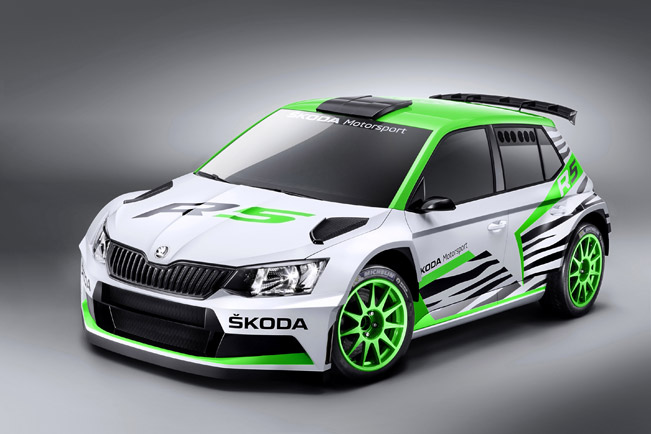 Skoda Fabia R 5 Concept is company's new rally car that is to be exhibited at this year's Essen Motor Show in Germany, Europe. The event is the largest trade fair for tuning, motorsport and sporty production vehicles in the country. It takes place from 29th of November to 7th of December. Other Skoda cars that are to be on display there are the Fabia Estate, Octavia RS, Rapid Spaceback Monte Carlo special editions, Yeti and Citigo, as well as the Yeti Xtreme, CitiJet and Rapid Spaceback Red & Grey Collection.
Fabia R 5 Concept gives a first insight of the future rally plans of the brand. At least in terms of design. It is based on the new Fabia, which was already revealed in its hatchback and estate versions. A number of top drivers were involved in the development of the concept.
In addition, the company revealed that the car is scheduled to be homologated by mid-2015. What has to be mentioned about it is that it includes a lot of high-grade technology. According to FIA regulations, it is driven by a 1.6-litre turbo unit mated to a five-speed sequential gearbox and including MacPherson struts. The weight is around 1230 kilograms.
Next, the new Fabia Estate that was launched two months ago in Paris is making its first appearance in Germany. It features expressive design with angular appearance, innovative technology and high functionality. At the same time, the car is loaded with a lot of safety, comfort and infotainment systems. It is spacious and includes the largest boot in the compact car class.
The other Skoda models on display in Essen is the ŠKODA Octavia RS, which is the fastest production Octavia with top speed of 248 km/h, the; the Monte Carlo special editions of the Citigo, Yeti and Rapid Spaceback.
SEE ALSO: Infiniti "Synaptiq": A Futuristic Interaction Between Human and Machine Charactersitics
Furthermore, the Yeti Xtreme show car includes the following design highlights: matt-grey paint, 17-inch alloys, dark discs, big bumper, LED headlights, striking mudguards, powerful rocker panels and rear bumper, and broad tailpipes on the dual exhaust.
The CitiJet show car which is a convertible based on the Citigo, features special metallic paintwork in blue/white and racy, blue 16-inch alloy wheels, hand-made rear spoiler and two tailpipes, 300-watt sound system and blue LED interior lighting that reacts to the music.
At last, the visitors of the event will see the Rapid Spaceback Red & Grey. This is a sporty edition of Skoda's first compact hatchback model.
Source: Skoda