Skoda Kodiaq is here. First images and details reveled!

Skoda Kodiaq SUV breaks cover under military disguise
Skoda Kodiaq has been finally revealed as the company stars its major advertising campaign. Being 4.7m long, the SUV has the largest boot capacity within its class. In addition, it will be offered with the option of a third row of seats. Skoda fans must be excited right now and what they need to know is that the new model will go on sale in the beginning of next year.
Of course, the company did not disclose the entire specification list, but instead put a strong emphasis on the key advantages of Kodiaq. Here is what we know so far.
It seems that Skoda's way to be future oriented is to include more technology and connectivity features. So, it promises that the Kodiaq will sport a variety of infotainment and online connectivity treats. Precisely, the SUV will be given Volkswagen's second-generation Modular Infotainment Matrix, which offers numerous functions and interfaces, and what Skoda calls "capacitive touchscreens".
SEE ALSO: Skoda reveals the new bear-inspired Kodiaq SUV with couple of sketches
Columbus and Amundsen systems are featured as an option and they come with a WiFi hotspot as well as LTE module for faster mobile services. In addition, the Skoda online services run via the Skoda Connect App, which is also helpful in cases of checking, configuring and finding the car from afar via a smartphone. The SmartLink platform, with Apple CarPlay, Android Auto, MirrorLinkTM and SmartGate are all there.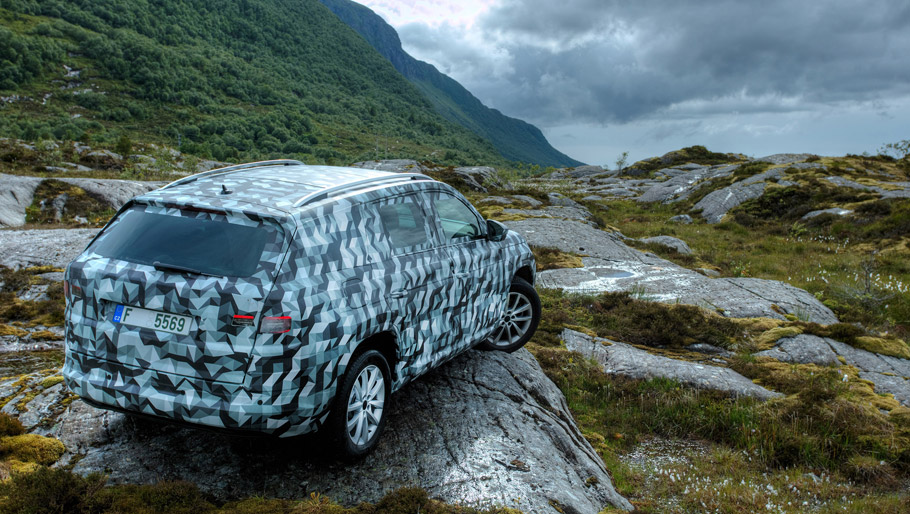 The Kodiaq also comes equipped with a wide range of driving assistance system like the Area View cameras, the Tow Assist system and Front Assist, Parking Distance Control and more. But besides the technology and assistance systems, Skoda says that probably the most important asset of Kodiaq is the design, which is "full of character and emotion". Furthermore, the SUV can be specified as five- or seven-seater, offering a capacity of up to 2,065 litres or the largest boot within its class.
In terms of engines and chassis, the new model in Skoda's line-up can be specified with two TDIs and three TSIs. At the top of the range stands the 2.0-litre TSI petrol with its 180 hp (132 kW). The transmission options available are the six-speed manual gearbox, DSG transmission, front-wheel drive and all-wheel drive. One can also go for an off-road ride with the four-wheel drive specification just at the touch of a button specifying the preferred Driving Mode.
Detailed information and more images are going to be unveiled soon as Skoda is starting a major Kodiaq campaign. Stay tuned!
Source: Skoda