Skoda Teases 2015 Fabia With Design Sketch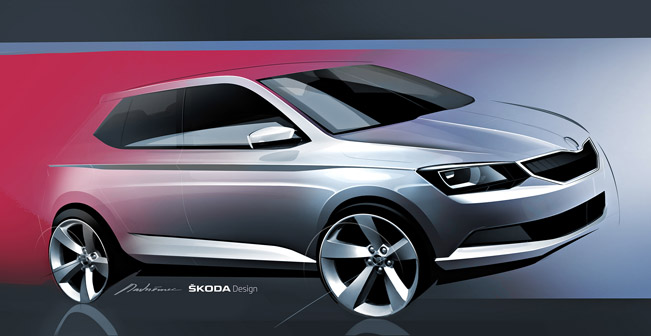 Skoda has just teased the new appearance of the future Fabia model and it has done this with a design sketch. As you can see the car takes on design elements from the Skoda VisionC show car exuding modernism and dynamism. The image shows that the Fabia is well balanced, has added width and flatter body thus creating harmonious proportions. This also contributes to the individuality of the car. Skoda also promises that the new model will feature fresh interior design.
The first design sketch also shows the youthful character of the new Fabia. The crisp and urban small car has the typical for the brand design cues. Skoda revealed that for the first time in a series production vehicle the designers have incorporated elements from a concept model, namely – the VisionC.
In addition, in the final stages of the design, Skoda motorsport has also took part. In this way, the car is even more dynamic, passionate and sharp. The image shows how in the new Fabia are mixed crystalline shapes and sharp lines.
Furthemore, the hatchback is characterized by balanced and tight proportions. The company has also revealed that the car will be nine centimetres wider in comparison to its predecessor. What is more – it will stand three centimeters lower. Inside, the interior will be entirely new and versatile and will also feature options for customization.
Source: Skoda