SsangYong XIV-Air and XIV-Adventure to Debut in Paris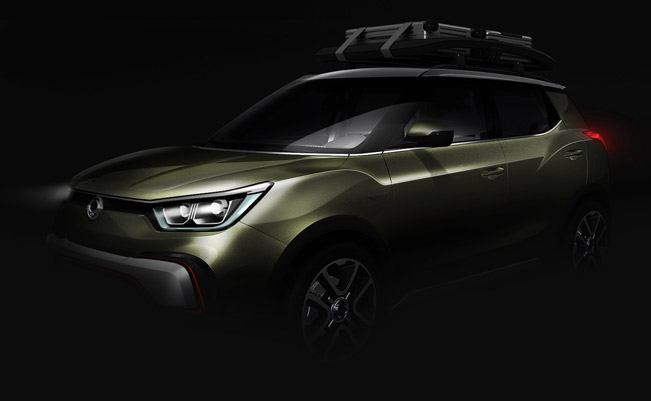 SsangYong XIV-Air and XIV-Adventure Concepts will make a world debut at the 2014 Paris Motor Show in October. The vehicles preview what the production soon-to-be-launched X100 model will look like. Both are based on brand's development philosophy of 'Robust, Specialty and Premium' and design theme of 'Nature born - 3 Motion'. To go even further into details, the XIV stands for eXciting user-Interface Vehicle. It is part of SsangYong's B-segment SUV series, which was shown for the first time at the 2011 IAA Frankfurt and with the most recent - the XLV, shown in Geneva this March.
There are almost no details provided by the brand around those two. What SsangYong has disclosed is the SUVs will measure 4,195 mm in length and will feature a 2,600 mm wheelbase. In addition, the XIV-Air and XIV-Adventure will be powered by either a 1.6 litre petrol or 1.6 litre diesel engines that meet Euro 6 emission standards.
As one can see from the teaser images below, the two new concepts will offer more style, practicality and convenience for the user. Although the teaser images are pretty dark, we can get some impression for the exterior of the models. The muscular stance is evident as well as the wraparound front and rear lights, and the slim grille.
Both concepts differ in terms of alloys, with the XIV-Air having more concept-like ones. The same model features a large air intake positioned on the lower front bumper. It also sports silverfish exterior paint scheme. On the other hand, the XIV-Adventure, finished in green, has rugged and off-road appearance. It is visible that it features a roof rack and a storage compartment attached to the bootlid.
SsangYong X100 is scheduled to go on sale next year.
Source: SsangYong