The New MINI Superleggera Vision Concept Car at 2014 LA Auto Show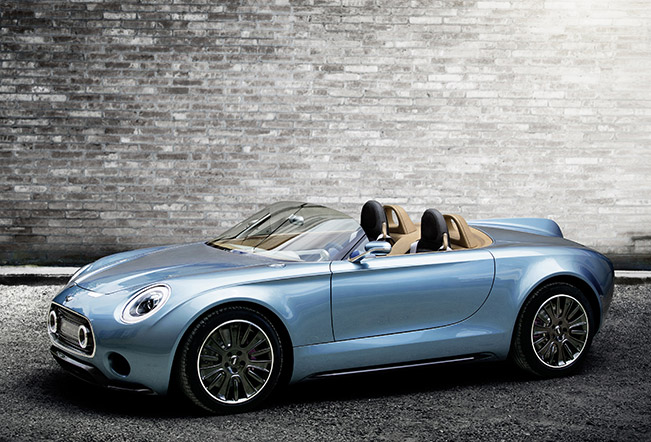 Having been first seen on the shores of Lake Como at Villa D'Este in May, MINI Superleggera Concept car is a collaborative product between MINI and the Italian design and body manufacturing specialist Touring Superleggera. It is a modern interpretation of classic proportions of a two-seater combined with groundbreaking efficiency. With its aesthetic attractiveness, the compact roadster brings together British style and Italian flair.
The vehicle will be presented at the 2014 LA Auto Show and will exhibit all the necessary characteristics of MINI productions highlighted and synchronized with the typical contours and surface finish of Touring Superleggera. Being put together as a precise superleggera (which in translation means "superlight"), the two-seater gets an allow space-frame chassis covered in allow sheets. In relation to this, Louis de Fabribeckers, Head of design of Touring Superleggera, points out that: "In this car all unnecessary equipment or decoration is sacrificed, as performance is gained through lightness and efficiency of the bodywork and interior. The Italian touch is in the proportions and the typical waistline."
The selection of high-quality materials in combination with the brilliantly manufactured surface contribute to the charismatic appeal of the MINI Superleggera Vision Concept car. The emotional design and lightweight construction shape a car which is truly unique.
Even though there is not much information about the powerplants, the MINI Superleggera sports car is said to be electric-powered which contributes to the pure driving experience. It is also really significant for, well… electric vehicles are pretty much the future, so when this car is finally produced and released for sale it might just be the next big thing on the market.
Source: MINI UK