TopCar Porsche 911 Turbo Stinger GTR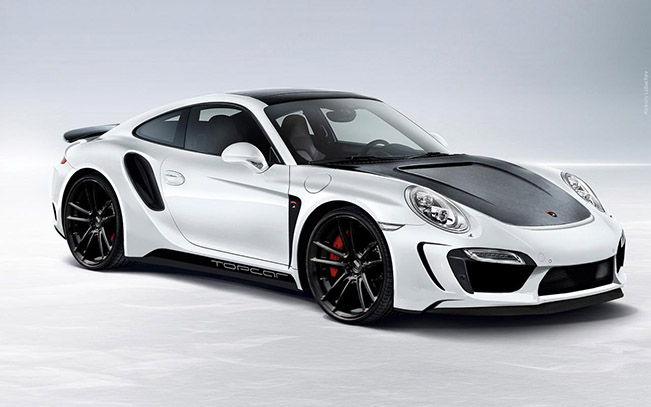 TopCar has unveiled their latest project – Stinger GTR based on the latest Porsche 911 Turbo. The tuned sports car will make its official debut at the 2014 Moscow Auto Show. TopCar has already presented the Vantage GTR based on Porsche Cayenne and Stingray GTR – tuning program for Porsche Panamera and now it is turn to the 911.
The tuning package will fit to all Porsche 911 Turbo and 911 Turbo S models. The tuning kit includes a number of carbon Kevlar elements including new front and rear bumpers, extended fenders and a new aerodynamic side skirts. Last, but not least are the revised doors and a new rear wing.
2014 Porsche 911 Turbo S is powered by a 3.8 liter flat-six turbocharged engine with 560HP (412 kW) at 6500RPM and 700Nm (519 lb-ft) of torque. The engine is connected to a DCT 7-speed gearbox.
0-100 km/h in 3.1 seconds and a top speed of 318 km/h (198 mph). However, during a test - Christian Gebhardt managed to do 0-100 km/h in 3.0 seconds, 0-200 km/h in 10.0 seconds and a top speed of 333 km/h (207 mph).
2014 911 Turbo S is available on the market with pricing starting from €195,256.
Source: TopCar