Vilner Land Rover Defender Experience - "The Twins"
Land Rover Defenders are commonly valued for their unmatched off-road capabilities and extreme toughness. People who buy these iconic machines usually apply their qualities in exotic adventures or work in heavy terrain conditions. There are probably also people who see Land Rovers as accommodating and functional too, but never luxurious.
However, there are wealthy people who are not ready to sacrifice their comfort and luxurious surroundings, in order to experience the Defender in its element. They typically go off and buy one of the new-age 'soft' off-roaders.
Some of them, however, choose another route and seek the assistance of specialized experts, such as the Bulgarian-based tuning and customization studio Vilner. Such is the case with a Russian oligarch, who wished to have his identity remain undisclosed. The challenge he presented the Vilner team with was to completely revamp two Land Rover Defenders, which are set to be used in the client's private hunting grounds and entertain both him and his exclusive guests.
The guys at Vilner took up to the challenge and wasted no time in turning the harsh off-roaders into world-class luxury machines, without spoiling their ability to reach the Earth's most distant and inaccessible spots. They named the project "The Twins".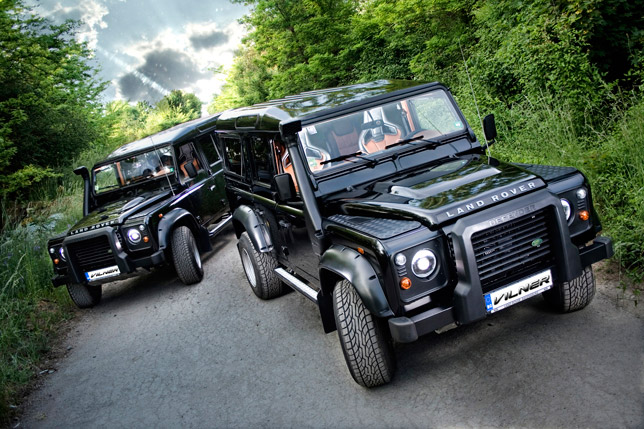 To start with, the team added to the Defender's sound insulation, which in its standard trim is practically non-existent, in order to significantly decrease noise and vibrations inside the saloon. They continued by dressing the door panels in a combination of Alcantara and Nappa leather (with the latter being the same as the one used by Bentley in their interiors). Finally, they completed the interior by garnishing the seats and headliner with a combination of brown Alcantara and brown-and-black leather.
In keeping with the luxurious theme, and to provide the client and his guests with high-quality entertainment, the Vilner team installed a 600-watt audio and navigation system. It is linked to a 15-inch roof-mounted LCD screen, whose sole responsibility is the amusement of the passengers on the back seat. The whole interior is illuminated by ambient lighting, while the dashboard dials are painted in a matching brown shade and are LED-lit.
Sometimes hunting and fishing lovers, such as the Russian owner of "The Twins", like to continue with their activities after sunset. To aid this desire, the Vilner guys have installed additional xenon and day lights.
Source: Vilner