World Premiere Of Volkswagen Tristar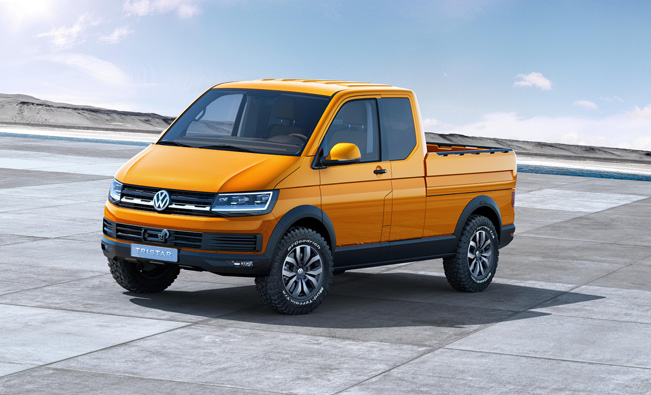 Since its world premiere, we have been shown the all new Volkswagen Tristar. This is a concept vehicle with the name of Tristar, unveiled at Hannover 23 September 2014. This model is a combination of the features of the T models with great off-road abilities, convenient storage spaces and highest quality standards, designed to be safe and flexible is the absolute perfect solution for your way of transport.
It has been design specifically with its LED headlights and pointed lines around it and its unique front, to give a look of high-standard new but still familiar design.
2014 Volkswagen Tristar Concept has a 2.0 TDI engine which can produce up to 201 hp (149 kW) with a maximum torque of 450 Nm (331  ft-lb) 204 PS at 4,000 rpm and 450 Nm Nm (331  ft-lb) at 1,400 rpm. It comes along with seven-speed gearbox. Top speed is 115 mph (185 km/h). The vehicle can reach from 0 to 62 mph (99 kph) in about 10 seconds. Looked from aside the vehicle has the measurements of length 4.788 mm; width 2.320 mm; height 2,066 mm; which provides 30 mm additional ground clearance. The Tristar is Permanent 4Motion all-wheel drive with mechanical rear axle differential lock. The wheels are 245/70 R17 'Rocadura' alloy.
As far as for the interior, you will have the unique opportunity to posses a 20-inch table tablet with a video conferencing masterpiece with amazing sound systems, which both driver and passengers can turn and slide to themselves. There is one amazing feature installed, which I personally think is a new level of convenience- an esperesso machine. With a huge spacious trunk you are able of placing your cargo in two separate levels.
Source: Volkswagen