Jeep

Gladiator Sideburn Concept

(

2023

)
Jeep Gladiator Sideburn Concept
The Jeep Gladiator Sideburn concept is a cool off-road vehicle that comes in Solar Flash Yellow. It has new tools to make off-road adventures even more exciting.
Under the hood, there's a 3.6-liter Pentastar V-6 engine, and the vehicle is equipped with a JPP 2-inch lift kit and BILSTEIN performance shock absorbers. These BILSTEIN shocks have remote reservoirs that provide extra cooling and help the Jeep handle rough terrain better.
The Sideburn also has black HRE 17-by-9-inch FT1 six-spoke wheels and 37-by-13-inch BF Goodrich tires at all four corners. Overall, it's a great vehicle for off-road enthusiasts looking for an adventure.
The Gladiator Sideburn concept has a special custom-designed grille guard that measures 4 feet by 1 foot. It protects the seven-slot front grille, which was taken from the 2023 Jeep Wrangler Rubicon 20th Anniversary edition.
The grille guard can fold down to create a unique bumper bench, perfect for two people to relax on during off-road trips. Beneath the grille guard is a modified Rubicon bumper with a Warn winch.
Also new to the Gladiator Sideburn is a custom JPP limb-riser that uses heavy-duty cables to keep loose branches and brush from hitting the hood and windshield. This helps to prevent potential damage while off-roading.
The JPP by Mopar design team listened to customer feedback and added removable 11-inch TYRI rectangular LED lights to each of the Gladiator Sideburn's roof panels. The lights are suspended by custom bracketry in the concept-light fairing and can be quickly disconnected.
The Gladiator Sideburn also has a concept JPP Sport Bar that's made from carbon fiber and steel. It has bed steps on both sides, making it easy to access the space between the cabin and the bed. The sport bar also has a mid-shelf with tie downs for portable storage totes, which can be locked and secured via eight tie-down loops. Additionally, there are four T-track rails on the upper part of the sport bar for easy installation of bike, kayak or other roof-mounted cargo systems.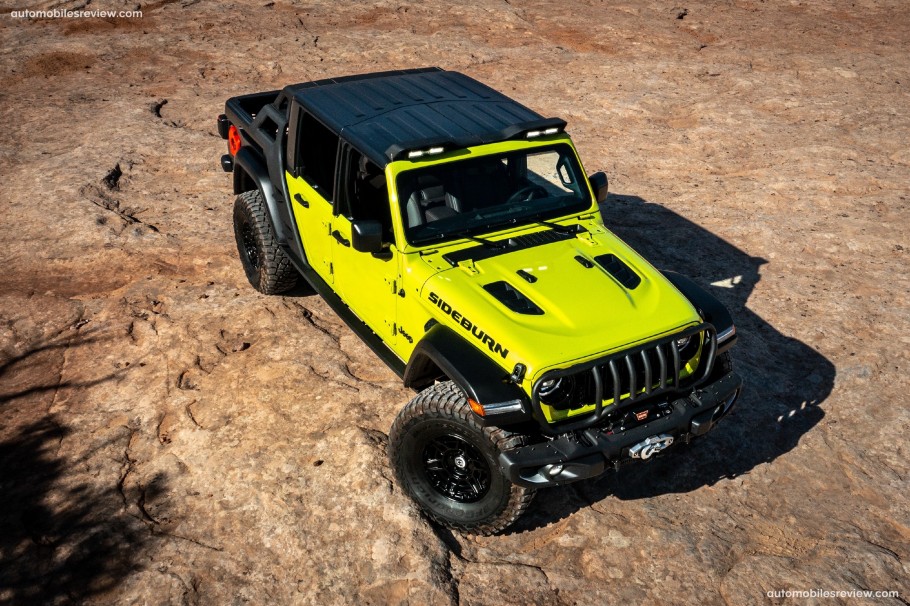 The bed of the Gladiator Sideburn concept is one-of-a-kind. It has integral Molle panels above and behind the wheel flares that provide extra storage space. There are also RotoPaX containers specifically designed for carrying liquids on off-road adventures. Plus, the bed has a modified Mopar bed-mounted spare tire carrier that can hold a 37-inch wheel and tire.
The custom tailgate includes a back-up camera and CHMSL, and has three Molle-panel openings for even more storage options. The center opening features a custom floating Jeep badge.
The Sideburn Gladiator concept has a open-air feel that's even better with the JPP half doors. Plus, JPP side steps and grab handles make it easy to get into the elevated cabin.
The open cabin has seats, armrests, shift boots, parking brake handle, and half-door pull straps that are covered in a dark red-brown Vienesse Relicate Nappa leather with Soul-stopper thread accents. The thread accents are also on the top pad of the instrument panel and steering wheel.
The custom instrument panel bezels on the Sideburn Gladiator concept have a 3D topographical map of Moab scenery, finished in matte-black with gloss dark-silver trails. Other accents in the cabin are painted with Atomic Silver matte paint.
Stainless-steel JPP pedal covers give traction for off-roading, and a concept JPP heavy-duty vinyl floor system (specifically for the JT Gladiator model) with built-in floor drains make it easy to hose out the interior.