Volkswagen

Golf GT

(

2005

)
Volkswagen Golf GT
At the International Motor Show (Cars) in Frankfurt, Volkswagen is presenting a ground-breaking innovation in the development of direct injection petrol engines: The world's first twin-turbocharged FSI engine – the "Twincharger". The engine developers at Volkswagen have taken an unusual approach to achieving lower fuel consumption values: Reduction in cubic capacity alongside the combination of an exhaust turbocharger with a compressor.
With the new 1.4 l 125 kW Twincharger engine, Volkswagen has impressively succeeded in pushing ahead with the logical further development of its own FSI technology to achieve even more driving pleasure and efficiency. The combination of exhaust turbocharging with an automatically switched, high-speed mechanical compressor develops the same torque as a high volume naturally aspirated engine at the same time as achieving lower consumption values.
In particular, the high level of torque developed at low engine speeds means that drivers can delay shifting gear for longer. This means customers are going to be even more excited about turbocharged SI engines – particularly since the average consumption is only 7.2 l/100 km (39.2 mpg). In addition, the design of the exhaust system helps to keep consumption as low as possible when driving at speed on the motorway.
However, driving pleasure is increased even more whilst retaining the low consumption values: From spring 2006, namely, the "Twincharger" can be combined with the fascinating DSG direct shift gearbox.
It is a successful synthesis between driving pleasure and economical responsibility. The compact power unit develops 125 kW / 170 PS and a maximum torque of 240 newton metres in the range between 1750 and 4500 rpm. With this engine, the Golf GT has a top speed of 220 km/h (136 mph) and reaches the 100 km/h (62 mph) mark in only 7.9 seconds. Its considerable torque makes the engine feel like a high-volume naturally aspirated engine, while the possibility of driving with fewer gearshifts keeps the overall fuel consumption down to a frugal 7.2 l/100 km (39.2 mpg). And, it goes without saying, there is plenty of power in reserve for overtaking on country roads.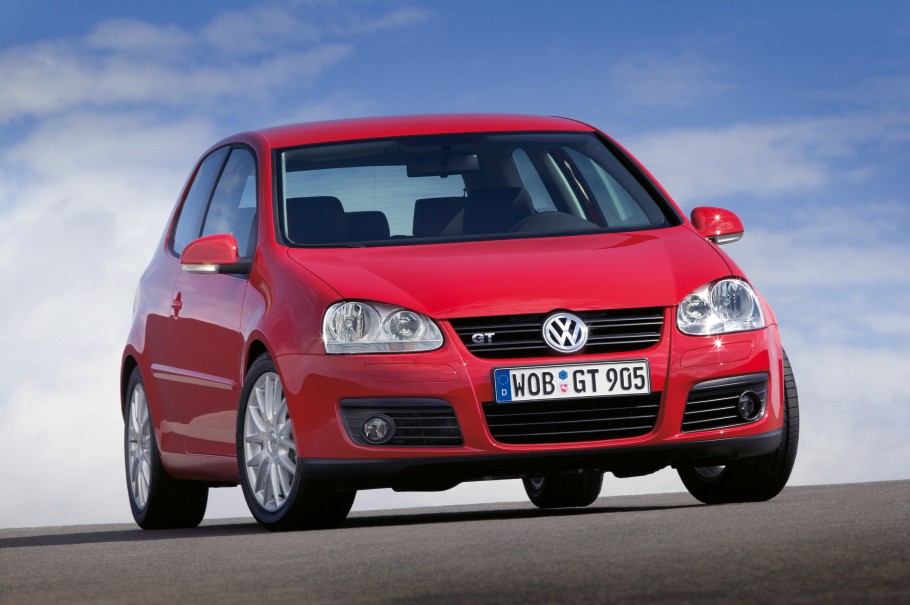 Another performance variant of this innovative Twincharger engine with 103 kW / 138 PS (maximum torque 220 newton metres) will be available from early 2006, initially in the Touran compact MPV, and after that the Golf will also be available with this engine.
The new compact FSI with twin-turbocharging will first be used in the sporty Golf GT. This variant is positioned between the Golf Sportline and the Golf GTI. Its exterior is differentiated by an individual front section with a V-shaped grill in the body colour as well as special alloy wheels. Special sports seats and a three-spoke sports steering wheel lend additional appeal to the interior. Another power unit for the Golf GT will be available from the end of 2005 also: the powerful 125 kW / 170 PS 2.0 TDI. This four-valve TDI engine with piezoelectric pump/nozzle injection elements and a diesel particulate filter as standard gives the Golf GT extremely sporty performance with a torque of 350 newton metres, combined with attractive consumption values.