2013 Hyundai Santa Fe US - details
2013 Hyundai Sanfta Fe model makes its official debut at the New York Auto Show. This is the third generation of the big cross-over as it will be available in three different version: a 5-seat Santa Fe Sport, Santa Fe Sport 2.0T and larger 7-seat LWB Santa Fe.
The standard equipment includes 7 airbags, panoramic sunroof, heated rear seats, heated steering wheel, power seats, sliding second row with 40:20:40 folding and standard Blue Link infotainment, navigation and audio multimedia systems with eight-inch display.
The engine range features three petrol power units – a 2.4 liter direct injected GDI with 193HP (142 kW) and 245Nm (181 lb-ft) and a powerful 2.0 liter turbocharged GDI with 264HP (194 kW) achieving best-in-class power-to-weight ratio and very good fuel consumption of – 31 mpg on the highway. The most powerful variant is the 3.3 liter GDI V6 with 290HP (213 kW), which is available for LWB Santa Fe.
The diesel variants are 2.0 liter with 150HP (110 kW) and 382Nm (282 lb-ft) and a powerful 2.2 liter four-cylinder 16-valve power unit with 200HP (147 kW) and 431Nm (318 lb-ft) at 2000RPM.
The transmission choices are 6-speed manual for the small 2.0 liter diesel, 6-speed manual or 6-speed automatic for the 2.2 liter diesel and other powerunits.
The all-new 2013 Santa Fe Sport will hit the market this summer and the 7-seat variant will be available in the beginning of the next year.
Check out the full specs below.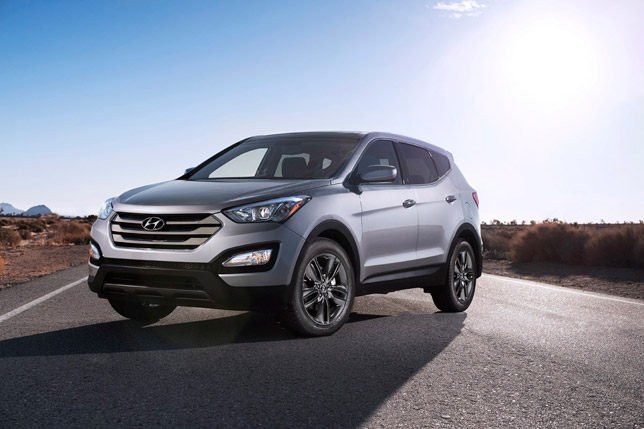 | | |
| --- | --- |
| Diesel engines | |
| | |
| 2,0-litre 150ps | |
| Type / capacity | R-engine, VGT, four-cylinder, DOHC 16-valve / 1995cc |
| Power / torque | 150ps @ 4000rpm / 382Nm @ 2000rpm |
| Bore x Stroke (mm) | 84 x 90 |
| Compression ratio | 16,5 |
| | |
| 2,2-litre 200ps | |
| Type / capacity | R-engine, VGT, four-cylinder, DOHC 16-valve / 2199cc |
| Power / torque | 200ps @ 3800rpm / 431Nm @ 2000rpm |
| Bore x Stroke (mm) | 85,4 x 96 |
| Compression ratio | 16 |
| | |
| Petrol engine | |
| | |
| 2,4-litre 193ps | |
| Type / capacity | Theta II 2.4 GDI, four-cylinder, DOHC 16-valve / 2359cc |
| Power / torque | 193ps @ 6300rpm / 245Nm @ 4250rpm |
| Bore x Stroke (mm) | 88 x 97 |
| Compression ratio | 11,3 |
| | | | |
| --- | --- | --- | --- |
| Transmissions | | | |
| | Diesel | | Petrol |
| | 2,0 | 2,2 | 2,4 |
| Manual | 6-sp | 6-sp | 6-sp |
| Automatic | ----- | 6-sp | 6-sp (4WD only) |
Suspension and damping
Front
Fully independent subframe-mounted MacPherson struts, with coil springs and gas-filled shock absorbers. Anti-roll stabiliser bar.
Rear
Fully independent subframe-mounted multi-links, coil springs and gas-filled shock absorbers.
Steering
Type
Motor-driven electric power steering, with FLEX STEER system
Brakes
Front
Ventilated discs, 320mm (depending on model)
Rear
Solid discs, 302mm (depending on model)
Booster size
10,5-inch
100-to-0 kph
40,4 metres
Wheels and tyres
(depending on model)
17 x 7,0 inch alloy 235 / 65 R17
18 x 7,5 inch alloy R18
19 x 7,5 inch alloy 235 / 55 R19
Spare
Temporary mobility kit
Dimensions (mm)
Exterior
Overall length
4690
Overall width
1880
Overall height
1680
Wheelbase
2700
Front overhang
935
Rear overhang
1055
Drag coefficient
0,34 Cd
Interior
Front                            Rear
Head room
1006 992
Leg room
1120 1000
Capacities (litres)
Luggage
534                  1st and 2nd row seats upright
| | | |
| --- | --- | --- |
| Performance | | |
| Diesel | 2,0 2WD Manual | 2,0 4WD Manual |
| Top speed (kph) | 188 | 188 |
| 0-to-100 kph (sec) | 11,0 | 11,3 |
| | 2,2 2WD Manual / Automatic | 2,2 4WD Manual / Automatic |
| Top speed (kph) | 190 / 190 | |
| 0-to-100 kph (sec) | 9,4 / 9,8 | 9,8 / 10,1 |
| | | |
| Petrol | 2,4 2WD Manual | 2,4 4WD Manual / Automatic |
| Top speed (kph) | 190 | 190 / 190 |
| 0-to-100 kph (sec) | 10,0 | 10,5 / 10,9 |
| | | |
| Emissions | | |
| Diesel | 2,0 2WD Manual | 2,0 4WD Manual |
| CO2 (g/km) | 155 | 160 |
| | 2,2 2WD Manual / Automatic | 2,2 4WD Manual / Automatic |
| CO2 (g/km) | 145 / 169 | 149 / 171 |
| | | |
| Petrol | 2,4 2WD Manual | 2,4 4WD Manual / Automatic |
| CO2 (g/km) | 197 | 202 / 206 |
Source: Hyundai