2013 Hyundai Santa Fe - Pricing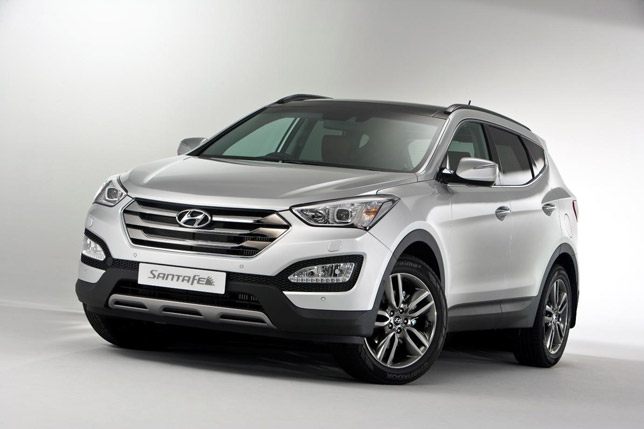 2013 Hyundai Santa Fe is the latest new generation SUV delivered by Hyundai and it is going to be at dealerships in the middle of October this year.
The new Santa Fe is powered by a 2.2-litre CRDi engine which generates 197 hp (145 kW) and 311lb ft (230 Nm) of torque. This engine is mated to a six-speed manual transmission as a standard, and optionally can be coupled with six-speed automatic one.
The 4WD manual Santa Fe has combined fuel consumption figure of 46.3mpg and 159g/km of CO2 emissions. On the other hand the automatic model delivers 41.5mpg and just 178g/km, respectively.
The new Hyundai SUV model is available in three trim levels and a choice of either five- or seven-seat configurations. In addition there is a wide range of standard equipment features which the customers of 2013 Santa Fe will enjoy.
For example the vehicle runs on 18-inch alloy wheels, which are in the standard package. In it are also featured body coloured door handles, body coloured door mirrors with integrated indicator lights, reverse parking sensors, daytime running lights, self-levelling suspension (seven seat only), rear spoiler with high-mounted brake light, air conditioning, Bluetooth® with voice recognition, multi-function steering wheel and Hyundai's adjustable Flex Steer™ system.
But the list of the standard equipment doesn't finish here. A number of safety features are also included: ESP, Hill Start Assist, Vehicle Stability Management, Trailer Stability Assist and seven airbags, and Active Bonnet System.
The first trim of the model is called Premium and its function is to add to the standard equipment touchscreen satellite navigation, reverse parking camera with Parking Guidance System, electric folding door mirrors with puddle lamps, dual zone climate control, heated front seats, roof rails, chrome effect door handles and black leather seat trim.
The second trim - Premium SE, consists of vast array of comfort, safety, and luxury features. It adds to the Premium feature the following: 19-inch alloy wheels, electric driver's seat adjustment, Panoramic sunroof, Xenon headlights, keyless entry with engine start/stop button, front parking sensors, Smart Parking Assist, tyre pressure monitoring system, Supervision Cluster with LCD display.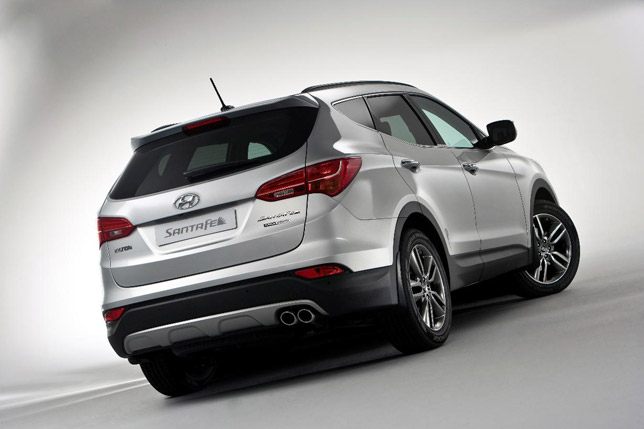 2013 Hyundai Santa Fe prices:
New Generation Santa Fe
Fuel Type
CO2 Emissions g/km
Recommended On The Road Price £
Style
2.2 CRDi 5 seat 2WD manual
D
155
25,495.00
2.2 CRDi 7 seat 2WD manual
D
155
26,695.00
2.2 CRDi 5 seat 4WD manual
D
159
26,895.00
2.2 CRDi 5 seat 4WD automatic
D
178
28,595.00
2.2 CRDi 7 seat 4WD manual
D
159
28,095.00
2.2 CRDi 7 seat 4WD automatic
D
178
29,795.00
Premium
2.2 CRDi 5 seat 4WD manual
D
159
28,995.00
2.2 CRDi 5 seat 4WD automatic
D
178
30,695.00
2.2 CRDi 7 seat 4WD manual
D
159
30,195.00
2.2 CRDi 7 seat 4WD automatic
D
178
31,895.00
Premium SE
2.2 CRDi 7 seat 4WD manual
D
159
32,695.00
2.2 CRDi 7 seat 4WD automatic
D
178
34,395.00
Source: Hyundai