BMW Vision Future Luxury Concept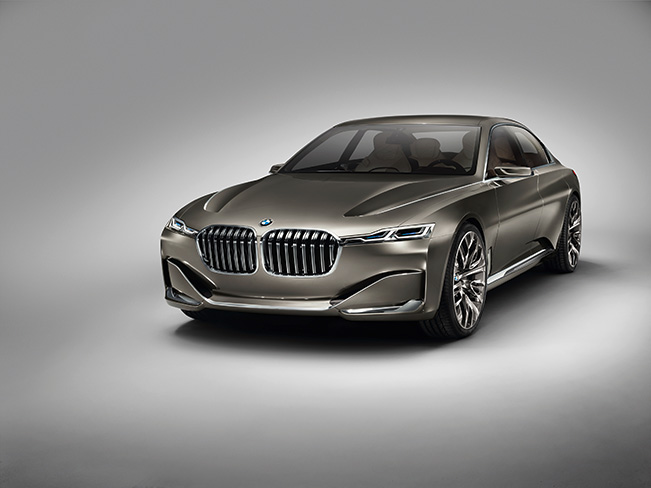 BMW has officially unveiled the Vision Future Luxury Concept. The new vehicle stands for a forward-looking fusion of exclusivity and innovation. It boasts unique driving experience combining nice emotions and exclusivity. All this is conveyed through the outstanding exterior and interior design of the BMW Vision Future Luxury.
The exterior boasts futuristic elements, a Liquid Platinum Bronze paint and a massive twin kidney grille that is flanked by laserlight headlights. There are also carbon fiber air deflectors, chrome trim elements, OLED taillights and a carbon strip, which means that the Vision Future Luxury Concept comes with carbon fiber and aluminum chassis.
The interior is even more spectacular. There are three displays that use 3D technology – the left one shows vehicle data, while the center shows a programmable speedometer, rev counter and "context-adaptive supplementary data".  The right display is for the infotainment system – music, maps, etc.
There is also a contact-analogue BMW Vision Head Up Display. This display augments the driver's view of the real world by projecting information directly in the driver's line of sight onto the road. Buildings, traffic signs or hazards can be highlighted directly in the real-world environment, selectively directing the driver's attention to specific information which is particularly important at any given time.
"We use visionary concept vehicles like the BMW Vision Future Luxury to show where we may be going with these themes in the future, and to give us new inspiration and motivation. The BMW Vision Future Luxury – with its innovative technologies and with meticulous precision and quality in every detail – takes our thinking on modern luxury a logical stage further.", commented BMW's Senior Vice President of Design, Adrian van Hooydonk.
Source: BMW