2013 Dodge SRT Viper GTS-R Returns to American Le Mans Series [VIDEO]
2013 Dodge SRT Viper GTS-R will return to American Le Mans Series making its firs appearance on 4th of August.
SRT Motorsports has worked in collaboration with Riley Technologies on the design-and-build process of the new SRT Viper GTS-R race cars. In details, the team will compete in the Mid-Ohio Sports Car Challenge with two identical SRT Viper GTS-R cars.
They will take part in the production-based GT class in the series. In the GT class can compete only slightly modified production-based two-wheel-drive race cars. And during the race the Viper will compare its powers with vehicles such as Aston Martin Vantage, BMW M3 GT, Corvette C6.R, Ferrari F458 Italia, Lotus Evora and Porsche 911 GT3 RSR.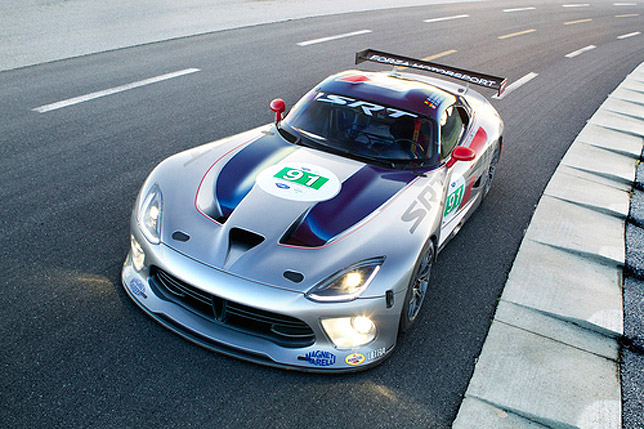 What is common between all of the cars in the same class is that they have a minimum weight of 2,745 pounds, produce between 450-500 horsepower and have a top speed of up to 180 mph.
Another important information is that four three full-time drivers are signed already to drive the Dodge: Dominik Farnbacher, from Ansbach, Germany; Marc Goossens from Geel, Belgium; and Kuno Wittmer from Montreal, Ryan Hunter-Reay from Fort Lauderdale, Fla.
Source: Dodge