2015 Dodge Viper Gets More Horsepower and $15k Price Drop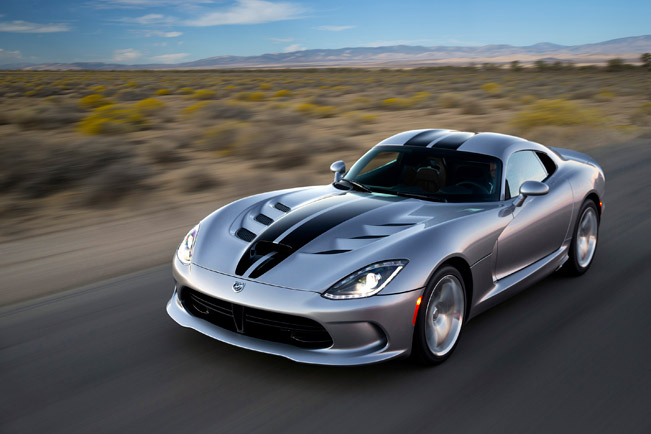 Good news for all 2015 Dodge Viper future buyers: the new starting price of the MY 2015 model is $15,000 USD less than the 2014 model it replaces. In addition, Dodge is giving the snake more horsepower and improved fuel economy. The new model year version of the Viper SRT will produce 645 horsepower (474 kW) and get up to 20 miles per gallon.
Dodge launched the original 1992 Dodge Viper priced at $50,700 USD, which adjusted for inflation equates to $86,130 in today's dollars. This is even more compared to the price tag for the MY2015 Viper (see below). The first generation model 400 horsepower (294 kW), it didn't have air conditioning, anti-lock brakes, traction control, stability control or … even have real windows. This made it the rawest American performance car of its time.
On the contrary, the fifth generation Viper, which maintains the purity of the original car through its seductive design, perfect weight balance and all-aluminum V10, adds 245 horsepower and five-mode ESC, two-mode suspension, ABS, traction control, launch control and a lightweight carbon fiber, magnesium and aluminum structure.
Furthermore, Dodge is also introducing various product enhancements, new packages and new colors for the 2015 Viper. The SRT is getting new accent stitching on the seats and instrument panel as well as Alcantara accents on the doors and instrument panel, and 'Viper' badged aluminum sill plates.
In addition, the GT now comes enhanced with Nappa leather seats with Alcantara inserts, Alcantara accents on the doors and IP, 'Viper' badged aluminum sill plates, two-mode suspension, five-mode ESC, 'GTS' hood and two-piece StopTech slotted rotors. The GTS Ceramic Blue Special Edition has an exclusive Ceramic Blue exterior color scheme accented by Black stripes.
At last, the TA 2.0 Special Edition is improved via the high-performance Aero Package. 2015 Viper is also getting three new exterior paint colors: Y'Orange, Stryker Orange and Stryker Purple.
The production of 2015 Dodge Vipers will begin in the second half of the fourth quarter of 2014. The cars will be arriving in dealerships in the first quarter of 2015 with a starting price of $84,995 USD.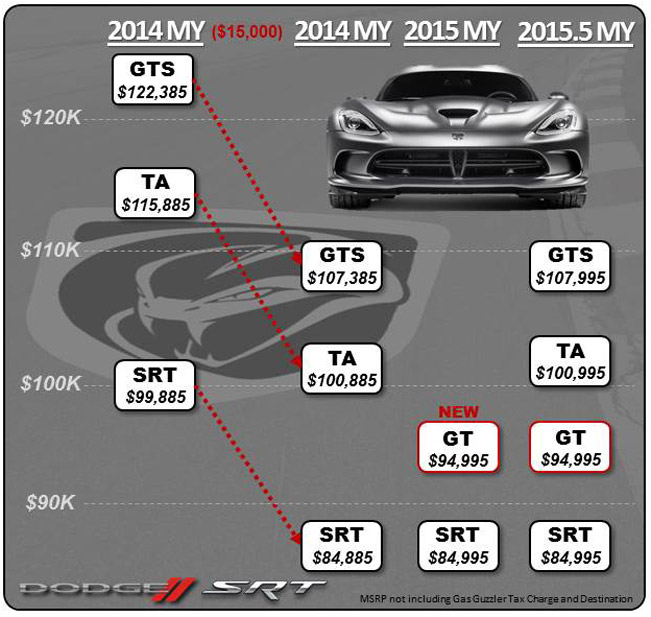 Source: Dodge