2013 Fiat 500 Cattiva To Be Officially Unveiled At Concorso Italiano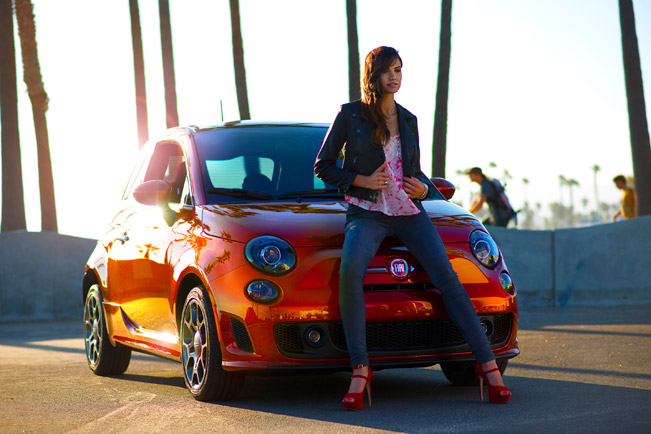 Fiat has just announced that its new limited edition model 2013 Fiat 500 Cattiva is going to make an official debut at Concorso Italiano. The event will take place on 16th of August at Laguna Seca Golf Ranch in Monterey, California.
In Italian the word "Cattiva" is used when one wants to describe a person or situation that is naughty but yet cool. This was the inspiration which served as a basis of the designers of the new model. The result is a standout, factory-customized Cinquecento with a "blacked out" look and an aggressive demeanor.
Moreover, the new Fiat 500 Cattiva will deliver the 500 Sport and 500 Turbo models with a factory-tuned look. In fact, the vehicle has as a basis the Fiat Design concept which was officially revealed at the 2013 North American International Auto Show. However, the new limited edition model will add more excitement and tuned style to the 2013 Fiat 500 Sport and more powerful Fiat 500 Turbo models.
The aggressive stance of the new model is achieved via the blacked-out headlamp, taillamp and parking lamp bezels and unique 16-inch Hyper Nero painted aluminum wheels with all-season performance tires. Additionally, what enhance the silhouette of the car are the one-of-a-kind Gloss Nero roof and the performance spoiler.
The 500 Cattiva will be offered in a choice of several exterior colors: Rosso (red), Rame (copper), Nero Puro (straight black), Argento (silver), Granito Lucente (granite crystal), Bianco (white) and Luce Blue (light blue, 500 Sport only).
The interior of this new Fiat is also stunning. It continues the exclusive exterior design and includes the following: Nero interior environment paired with Nero/Grigio (black/gray) cloth sport seats with Argento (silver) accent stitching, optional Nero leather-trimmed seats, Matte Nero instrument panel, Nero leather-wrapped shift knob and sport steering wheel hand-stitched with Argento accent thread.
2013 Fiat 500 Cattiva which is based on the 500 Sport will be powered by the innovative 1.4-liter MultiAir engine mated to a C514 five-speed manual transmission that deliver an EPA estimated 31 mpg city and 40 mpg highway fuel economy. There is a six-speed automatic transmission with driver-selectable gear changes offered as an option. In addition, the Cattiva also features engaging dynamics, which includes a driver selectable "Sport" mode on the instrument panel.
Fiat 500 Cattiva which is based on the 500 Turbo will be equipped with the MultiAir Turbo engine and sport-tuned exhaust. It is capable of generating 135 hp (100 kW) and 203 Nm (150 lb-ft). The unit is mated as a standard to the track-proven C510 five-speed manual transmission that includes an intermediate shaft with equal-length half shafts to mitigate torque steer.
2013 Fiat 500 Cattiva is going to be available at dealerships in the fourth quarter of this year and will have a starting price of $18,350.
Source: Fiat