Ford Celebrates 5-millionth Ford F-Series Super Duty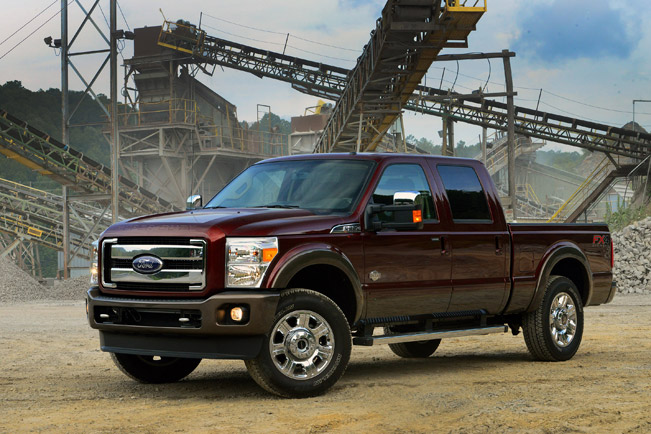 Ford will celebrate the production of the 5-millionth Ford F-Series Super Duty next month. In the range of 15 years, Ford F-Series Super Duty pickup trucks as well as from F-250 to F-550 chassis cabs have been constructed in the assembly line at Kentucky Truck Plant. The latest 2015 Ford F-250 Super Duty King Ranch FX4 offers maximum horsepower and torque and gets the work done. In addition, its powertrain be as efficient as possible, thus operating at low costs.
The original 1999 Super Duty got the gasoline Triton 6.8-liter V10 engine, which produced 275 horsepower (202 kW) and 555 Nm (410 lb.-ft.) of torque, while the 7.3-liter diesel engine produced 235 horsepower (173 kW) and 678 Nm (500 lb.-ft.) of torque.
Today, Super Duty's 6.2-liter gasoline V8 unit generates additional 110 horsepower to the figure of the 1999 V10, making a total of 385 horsepower (283 kW) and 549 Nm (405 lb.-ft.) of torque. The 6.7-liter Power Stroke V8 turbo diesel supplies 440 horsepower (324 kW) and 1165 Nm (860 lb.-ft.) of torque. Despite the higher outputs, these engines are more fuel-efficient than the 1999 powertrains.
Both contemporary engines generate power through the efficient TorqShift six-speed SelectShift Automatic transmission. In contrast, the transmission in the 1999 Super Duty trucks was a four-speed automatic and six-speed manual, with the latter one available only with the diesel. TorqShift transmission delivers live drive power takeoff, or PTO, to power auxiliary equipment such as snowplows, aerial lifts, tow truck lifts, cement mixers and dump trucks.
In addition, the Super Duty trucks are also famous for their capability. 1999 F-350 Super Duty pickup had a maximum tow capacity of 14,600 pounds. 2015 F-450 Super Duty pickup leads the way with a tow rating of 31,200 pounds. With its new tow rating, the 2015 F-450 has 40,400 pounds towing capacity.
Source: Ford