Hyundai HB20X Revealed in Brazil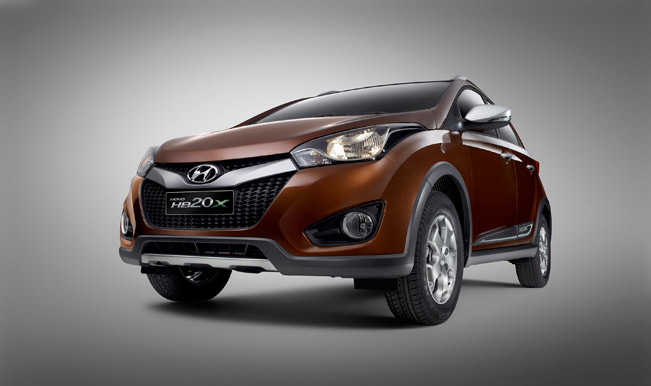 Hyundai HB20X Crossover was just revealed at the Sao Paulo International Motor Show. The vehicle is going to be officially launched early next year. It is part of Hyundai's family of cars exclusively made for Brazil only.
The crossover is based on the HB20 hatchback – again a car made exclusively for the customers in Brazil. It includes unique details in its design and performance and brings about great experience when being outdoors.
The front of the car has a totally redesigned bumper with a hexagonal grille which reflects Hyundai's new family look for SUV's. Of is a result of the application of the latest design philosophy of the brand, called Fluidic Sculpture.
Here one can see the headlights which have an eye-catching finish with black bezel and chrome details. All this contributes towards a sportier and more sophisticated image. On the other hand the fog lamps are redesigned in order to give a stronger impression.
Side-wise, the HB20X keeps the original waistline from HB20, which encompassed a robust and fluidic design. Nevertheless, some innovations are included such as the black molding that wraps the whole body.
In addition, there are roof bars which now offer more flexibility for carrying extra weekend luggage, while the 15-inch dark gray alloy wheels complete the sporty image of this vehicle. The redesign continues to the rear of the vehicle, where one can see a modified bumper with black moldings.
The interior of the new HB20X includes high quality craftsmanship and adds exclusive items such as sports pedals, chrome finishing for door handles and air conditioning controls, as well as blue double stitches for the steering wheel and seats.
At last, but not least, this SUV is going to be equipped with Hyundai's GAMMA 1.6 16V FLEX engine which produces 128 hp (95 kW). It includes a Continuous Variable Vavle Timing and aluminum block, which is the most powerful in the category.
Source: Hyundai