Hyundai Introduces New R-Diesel Engine
On the occasion of the 8th Advanced Diesel Engine Technology Symposium held at the company's Namyang R&D Center, Hyundai Motor Co. today unveiled details of its newest passenger diesel powerplant, the R-Engine .  With an output of 184ps and 40kg of torque, the R-Engine is ahead of the rest of the class, surpassing all German and French competitors (200ps and 44.5kg-m for the 2.2-liter).
"R proves Hyundai's diesel development capabilities really are world-class.  With diesels becoming cleaner and more fuel efficient all the time, there's a growing demand for diesel powerplants worldwide and Hyundai is well positioned to supply the market with the very best diesel technology," said Dr. Hyun-Soon Lee, president of the Corporate Research and Development Division.
The R-Engine benefits from the third generation common rail system developed by Bosch whose piezo-electric injectors deliver fuel at 1800-bar for an unprecedented degree of accuracy and control. It also features an electronic variable geometry turbocharger and an advanced engine control unit (air system-based charge control).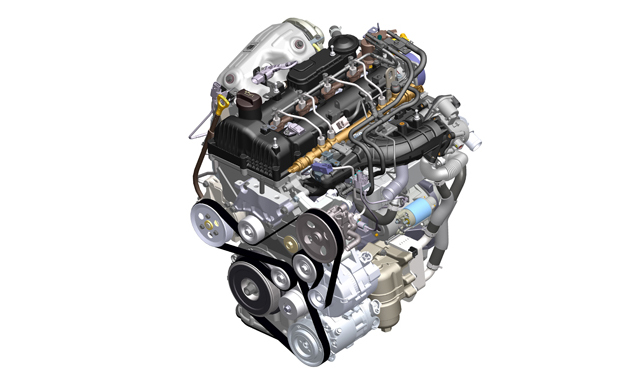 Developed by a 150-man team at an investment cost of 250 billion won, the R-Engine harnesses Hyundai's newest and most advanced development tools. Computional flow dynamics, structural and thermal analysis were used to optimize its design while computerized simulation of the die casting process was employed to achieve the optimal balance of strength and low weight.
Over 500 prototype engines were built during the 42 month-long development period which encompassed a wide variety performance and emissions tests, endurance as well as NVH, cooling and lubrication studies. Finally, the engine was installed in vehicles and subjected to exhaustive testing under all imaginable environmental conditions.
Available in 2- and 2.2-liter displacements, the all-aluminum R-Engine is fitted with a 16-valve dual overhead camshaft which is driven by an internal steel silent timing chain. For reduced vibration and lower booming noise, the R gets a lower balance shaft which has been encased in a stiffened ladder frame housing for increased rigidity. Weight saving features include serpentine belt with isolation pulley, a plastic head cover, plastic intake manifold and plastic oil filter housing.
To achieve Euro-5 emission compliancy, the R is fitted with a close-coupled diesel particulate filter plus highly efficient exhaust gas recirculation with by-pass valve
The R-Engine will enter production next year and will see its first application on the 2010 Tuscon and Sonata models which are due to be launched in the coming year.
The R-Engine brings Hyundai's diesel engine family fully up-to-date as it joins the U-Engine (1.1-liter, 1.4-liter and 1.6-liter), the A-Engine (2.5-liter) and S-Engine (3.0-liter V-6).