Loder1899 Present Their Ford Fiesta ST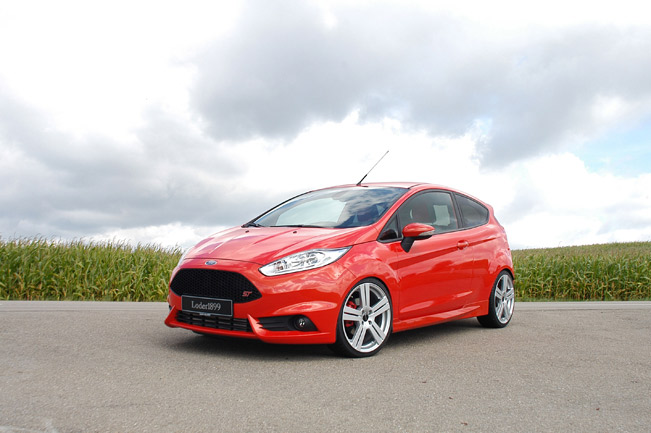 The Ford Fiesta ST is an impressive little speed imp as it is. Add some German engineering from Loder1899 to the equation, however, and you've got yourself a recipe for unlimited fun and a monthly expense for new tires.
Because of the new exhaust system with a sport cat module, an intecooler and some clever engine management fiddling, the Loder1899 Fiesta has 52 hp and 95 Nm of torque more than the outgoing ST. That's 235 hp and 335 Nm of torque good for a 0 to 60 mph time of 6.5 seconds. Not bat for what is essentially a 1.6 Ecoboost that, supposedly will return 6 liters per 100 km of fuel economy on the combined cycle.
To ensure that all of the power is utilized, Loder1899 have also added a Bilstein B14 suspension kit and some lowering springs that put the fiesta -25 mm closer to the ground. For stopping power, there have been provided an ST Big Brake braking system with 318 mm discs 4-pot calipers. To round it off, for around $2100 or 2820, you can go respectively with a set of Matzuda 7.5x18 silver wheels or four black Assetto wheels of the same size. The 205/35R18 tires are also included in the price.
Source: Loder1899