2016 Nissan Maxima is Here! We all Wonder if It Offers the Maximum [VIDEO]

2016 Nissan Maxima is finally here! After the crushing debut at New York International Auto Show, the latest Nissan model is already at all Nissan dealerships worldwide. The 2016 Maxima catches the eye with its elegant lines, confident look, powerful engine and of course, high levels of safety features and technology gadgets.
Along with the reputation of "4-Door Sports Car" the 2016 Maxima also features and a combination of low profile and wide stance, sharp-looking front and premium cozy interior. In fact, the vehicle further grants owners with NissanConnectSM with navigation and 11-speaker Bose audio system.
Drivetrain System
The most interesting part of the vehicle is definitely the engine. 2016 Maxima comes with the crushing 300 hp (220 kW) V6 engine, paired with the performance-oriented Xtronic transmission. What is also interesting about the engine is that, it demonstrates a total of 15 per cent better fuel consumption and economy. Sweet, huh?
Additional Technology Features
The 2016 Maxima offers wide range of different safety, security and drive aids. Some of them are the Predictive Forward Collision Warning (PFCW), Intelligent Cruise Control (ICC), Forward Emergency Braking (FEB), Rear Cross Traffic Alert (RCTA), Blind Spot Warning (BSW) and Driver Attention Alert (DAA). Surely everyone will feel safe and comfortable in a ride with such systems.
SEE ALSO: 2016 Nissan Maxima SR Proved it is Really a 4-Door Sports Car
And of course, Nissan team offers the best for every customer: the "4-Door Sports Car" comes in five variations, that are indeed S, SV, SL, SR and Platinum.  All the vehicles are assembled in Smyrna, Tennessee, with engines assembled in Decherd, Tennessee.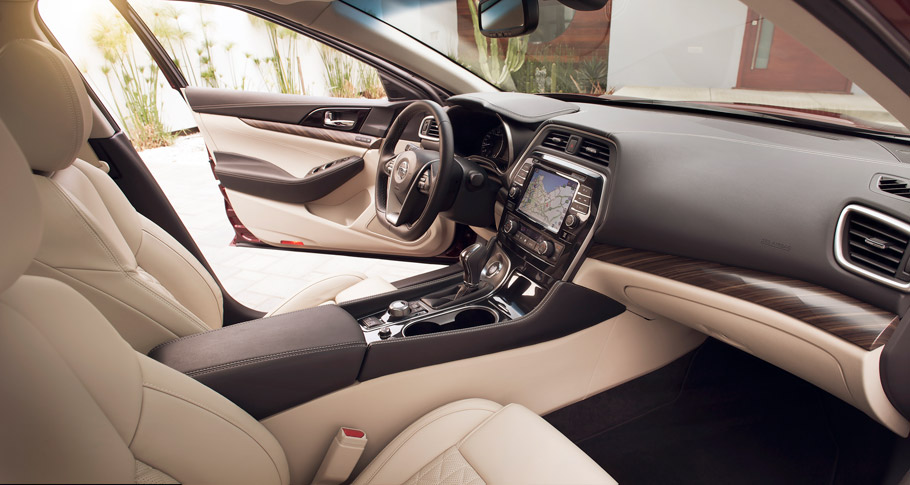 With the success of previous models and the wonderful features, the 2016 Maxima looks promising, confident and beautiful. I wonder what you think about the latest Nissan model. We await your opinions in the comment section below!
Prices for 2016 Nissan Maxima start from $32,410.
Source: Nissan