Ford Shelby GT500 with "the World's Most Powerful V8"
The topic at Ford today apparently is fuel economy. The 2013 Ford Shelby GT500 they say, is 1 mpg more efficient than the 2012 model despite the fact that it has 112 more horsepower. Not only that, but there's also a claim that the 5.8-liter engine under its hood is now the "world's most powerful production V8" rated at 662 horsepower. Maybe they haven't heard of the Gumpert Apollo or the Koenigsegg Agera R. But I guess they are in a class of their own.
The 5.8-liter in the GT500 is a typical, lazy rumbling muscle. 395 lb-ft of torque are already at disposal when the rev needle reaches 1000 rpm. More than 90 percent of the peak torque comes in between 2,200 and 5,800 rpm. That thrust availability might be mainly due to the fact that the supercharger alone is 2.3-liters
"Our goal is to create outstanding all-around performance cars, not just stoplight-to-stoplight sprinters," said Jamal Hameedi, SVT chief engineer. "We've backed up this amazing powerplant with a more refined chassis tuning that helps keep the rubber on the pavement without punishing the driver's spine and six-pot Brembo brakes that dissipate speed with ease stop after stop."
Indeed, the chassis has been tuned to absorb the road imperfection that can cause instability at high speeds (200+ mph). As a 2013 model, the Ford Shelby GT500 gets a revised front fascia and splitter which improve aerodynamics at 160 mph with around 33 percent over the ones in the 2011 model.
As a result of all that refinement, the Shelby has an EPA-estimated fuel economy of 15 mpg in the city, 24 mpg on the highway and 18 mpg in combined. The 2012 Chevrolet Camaro ZL1 is underpowered and 5 mpg less efficient. Checkmate.
The 2013 Ford Shelby GT500 will be built at AutoAlliance International Plant in Flat Rock, Mich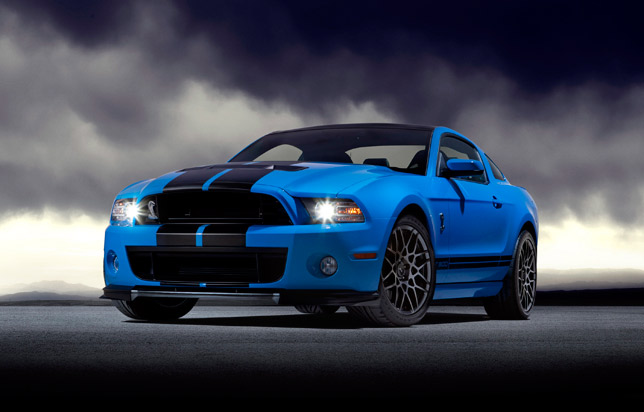 Source: Ford