Hyundai Fantastic Five Debuting at SEMA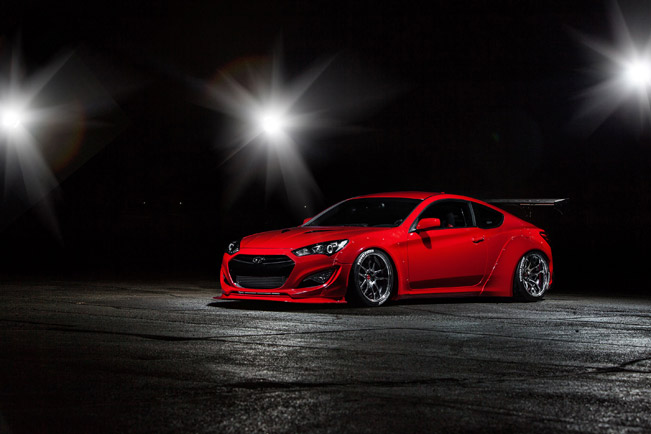 SEMA is a really big thin at the moment for the entire automotive world. One of the companies with an every year presence at the show is Hyundai, and it has released five of its concepts introduced at the event. It has once again teamed up with some of the biggest names in the tuning community. This year, the focus is on performance, thus boosting the new Genesis and Sonata models. The lineup of Hyundai vehicles includes ARK Performance AR550 Genesis Sedan, Bisimoto Engineering Sonata, Blood Type Racing Genesis Coupe, JP Edition Sonata and Toca Signature Edition Genesis Sedan.
ARK Performance AR550 Genesis is ultra-luxurious and equipped with supercharged power. ARK also focused on the power, handling, and note: sound of the Hyundai power plant. High-performance racing technology was also integrated in the Genesis in order to introduce a very unique and bold tuning.
Bisimoto is teaming up with Hyundai for the third year for SEMA. The powertrain gurus have created the most-powerful, front-wheel drive Sonata ever! The number is 708 horsepower (521 kW) and is produced by the entirely custom 2.4-liter "Theta-II" four cylinder engine. The car is made distinctive via the custom laminated body wrap and graphics.
The third car is the Blood Type Racing Genesis Coupe and it is the most-powerful 2.0-liter Genesis Coupe ever built. It features high-boost Precision Turbo turbocharger, strengthened and fully balanced internal components, a custom intake, intercooler, full exhaust kit and nitrous injection. All of this means that the tuners at BTR achieved the goal of extracting almost 1000 horsepower (735) from the engine.
The aggressive appearance of the Genesis Coupe which perfectly complements power under the hood is the addition of a widebody kit from Japanese designer Kei Miura, with 40mm-wider front and 60mm-wider rear fenders, front bumper lip spoiler, rear diffuser and a GT wing.
Number four is the JP Edition Sonata and it features a balance of performance products, in-car entertainment and represents the enthusiasts whose cars showcase an extension of their personalities and lifestyles. JP has given the Sonata a performance boost, as well as AEM cold air intake, a MagnaFlow exhaust kit and a hot charge pipe from Bisimoto engineering.
At last, Toca Signature Edition Genesis, dubbed "Steel Phoenix", is powered by the Hyundai's "Tau" 5.0-liter V8, which later was enhanced with Garrett twin turbo setup, ARK Performance catback exhaust system. The result is a power output of 600 horsepower (441 kW). Inside, the vehicle has also been given a boost: custom black leather seats with contrasting white stitching, carbon-fiber trim panels and a Rockford Fosgate sound system are all at hand.
Which one do you like the best?
Source: Hyundai